Student Services Office
Office hours are: Monday - Thursday: 10 am - 7 pm and Friday: 8 am - 1 pm. During the months of June and July the office is closed on Fridays.
The SRJC Roseland Student Services Office staff is  available to help you with the following services and information:
      - Assistance with and workshops for online admissions application 
      - Registration for classes
      - Counseling appointments and appointments for ESL Placement testing
      - Class schedule information
Any other information or questions related to SRJC Roseland, please email us at srjcroseland@santarosa.edu or call us at 707-527-4229.
Academic Counseling hours.
Contact the Student Services Office at 707-527-4229 to schedule an appointment.
Monday, 3:30-7:00 pm
Tuesday, 10:00 am--7:00 pm
Wednesday, 10:00-7:00 pm
Thursday, 10:00 am-7:00 pm
Friday, 10:00 am-1:00 pm
Reduced Schedule during June and July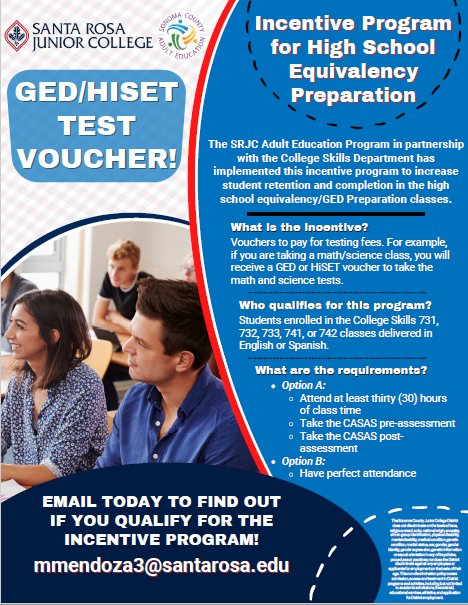 Classes
2024 Spring Semester classes start January 16, 2024. Open registration starts on December 8, 2023. If you enroll in an online class, the instructor will contact you via email a few days before the class starts with instructions on how to attend.
If you have any questions related to your classes, please email your instructor. In case you do not know your instructor's email, please contact SRJC Roseland at srjcroseland@santarosa.edu or call 707-527-4229.
Resources
Need help with food?
Redwood Food Bank distributes food for free. Find distribution locations and times in Sonoma County here
CalFresh is a California financial aid program in the form of a debit card for groceries. More info here
Free Class Offerings
Noncredit English as a Second Language (ESL) classes
Noncredit College Skills (GED or Hi-SET Preparation Classes)
Noncredit Spanish Literacy Classes
Older Adult Classes (i.e. arts and crafts, computer)
Noncredit Adult Education Classes including Basic Computer Classes
Class Schedules (approximate)
Monday through Thursday 8:45-11:45 am and 6:30-9:30 pm -
Friday/Saturday 8:30-11:30 am and 6:00-9:00 pm
Contact Information
Santa Rosa Junior College SRJC Roseland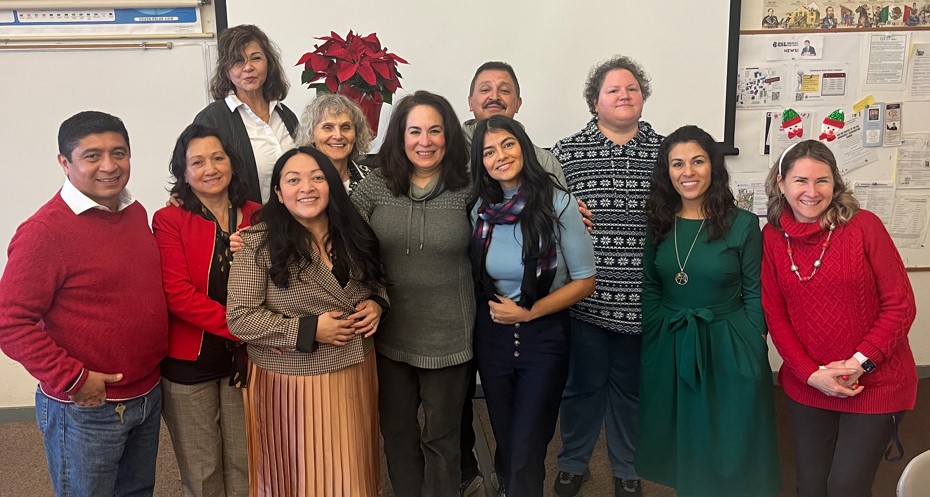 Physical address: 950 S. Wright Road, Santa Rosa, CA 95407
Mailing address:   1501 Mendocino Ave, Santa Rosa, CA 95401 
Email: srjcroseland@santarosa.edu               Phone: 707-527-4229                                            Director, SRJC Roseland : Hector Delgado
For questions related to ESL instruction:  call the ESL Department at 707-527-4382. 
For questions related to ADLTED (Adult Education) instruction: call the ADLTED Department at 707-521-7962.
How to Register
Submit an SRJC admissions application at www.santarosa.edu/apply or visit our office.
Obtain a Student Identification Number (SID).
Schedule an appointment for a placement test (only for ESL students)
Schedule an appointment for an orientation. 
Enroll in a class online through your student portal or visit our office.
Schedule an appointment with an academic counselor to create an education plan.
Instructions for 2024 Spring Registration
2024 Spring semester classes will start on Tuesday, January 16th, 2024; term #2 classes will start on Monday, March 25th, 2024. Open registration for Spring 2024 classes starts on Friday December 8th, 2024. If students would like to register for classes before that date, they need to have Priority registration. In order to gain Priority registration noncredit students need to be fully matriculated. This means they attended an orientation and met with a counselor to create an educational plan. See Priority Registration Dates below.

There are 2 ways students can enroll in classes:
1. Visit any of the following offices and fill out a registration card.
    Student Services Office, SRJC Roseland:   Mon-Thu: 10am-7pm, Fri: 8am-1pm (12/5, 12/6, 12/7:   8am-7pm)
    Welcome and Connect Center, SRJC Petaluma, Mike Smith Hall: Mon, Tue, Thu: 8am-5pm, Wed: 8am-7pm, Fri: 8am-12pm
    Admission & Records, SRJC Santa Rosa, Plover Hall:           Mon-Thu: 8am-5pm, Fri: 8am-1pm
2. Enroll online via their Student Portal. The SRJC Roseland Student Services Office is offering bilingual workshops on how to enroll online. Students can find also find written instructions at the end of this webpage.
If you would like to reserve your spot for the workshop, please visit or call our office 707-527-4229.
Placement Test Schedule for Noncredit ESL classes
| | | | |
| --- | --- | --- | --- |
| DATE/FECHA | DAY/DIA | ROOM/SALON | TIME/HORA |
| 12/05/23 | Tue/Mar | 112 | 12:00 PM |
| 12/06/23 | Wed/Mie | 12 | 5:00 PM |
| 12/07/23 | Thu/Jue | 12 | 5:00 PM |
| 12/13/23 | Wed/Mie | 12 | 5:00 PM |
To make an individual or group reservation in English, please call the office at 707-527-4229. For dates for orientations in Spanish, please visit https://southwest.santarosa.edu/en-espanol
The Petaluma campus offers GED Testing on Tuesdays: GED Testing Schedule
Instructions
How to find your Priority Registration.