New in person office hours: Monday-Thursday: 10am-7pm, Friday 8am-5pm -
WINTER CLOSURE: The office will be closed December 17  through January 2, 2023
Students have to be fully vaccinated for in person classes.
Student Services Office
The SRJC Southwest Santa Rosa Center, Student Services Office staff is now available to assist you remotely and in person with the following services and information:
      - Assistance with online admissions application 
      - Registration for classes
      - Counseling appointments
      - Class schedule information
Any other information or questions related to the college, please email us at swc@santarosa.edu or call us at 707-527-4229.
Remote Academic Counseling:  
Monday: 10am-7pm   -   Tuesday: 4-7pm   -   Wednesday: 10:30am-1pm, 4-7pm   -  Friday: 10-11am
Margarita Gonzalez-Jordan - email: mgonzalezjordan@santarosa.edu - phone: 707-527-4840 (Please leave a voice message and she will return your call) -
reduced hours during the Summer.
Classes
2023 Spring Semester classes start January 18, 2023. If you enroll in an online class, the instructor will contact you via email a few days before the class starts with instructions on how to attend. If you enroll in an in person class, you will receive an confirmation with the times, date and location of your class.
If you have any questions related to your classes, please email your instructor. In case you do not know your instructor's email, please contact the SWC at swc@santarosa.edu or call 707-527-4229.
Resources
Need help with food?
Redwood Food Bank distributes food for free. Find distribution locations and times in Sonoma County here
CalFresh is a California financial aid program in the form of a debit card for groceries. More info here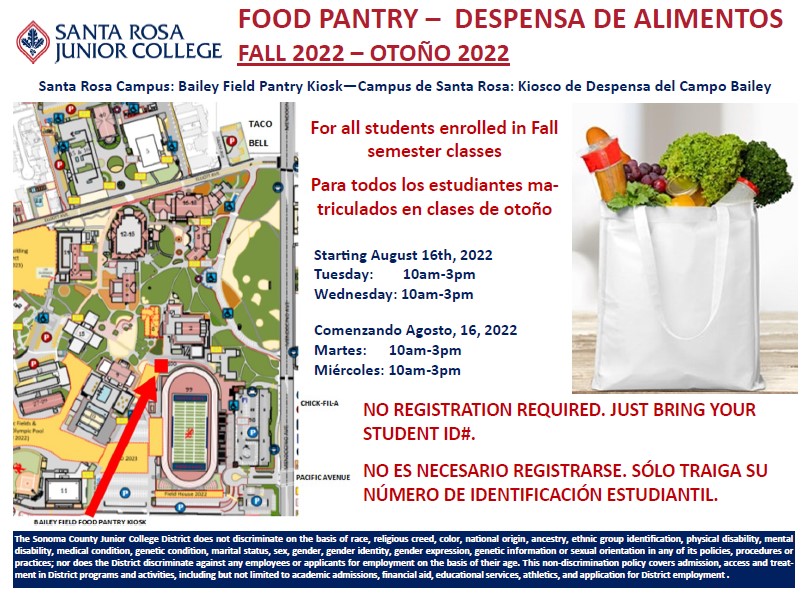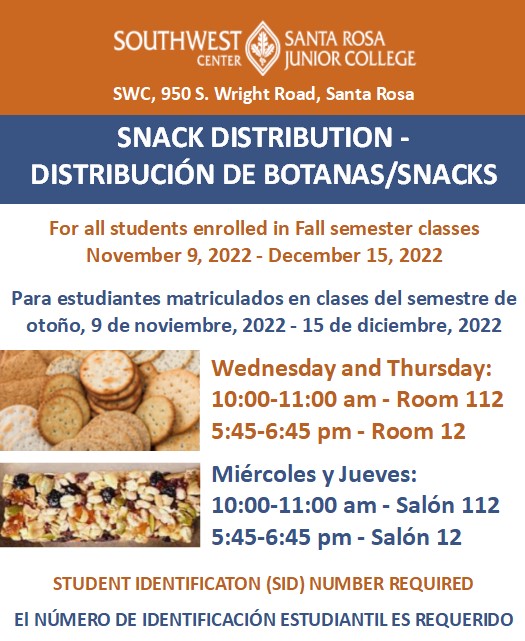 Class Offerings
Free non credit English as a Second Language (ESL) classes
College Skills (GED or Hi-SET Preparation Classes)
Community Education (Spanish Classes)
Spanish Literacy Classes
Basic Computer Classes for English learners
Older Adult Classes (i.e. arts and crafts, computer)
Adult Education Classes
Class Schedules (approximate)
Monday through Thursday 8:45-11:45 am and 6:30-9:30 pm
Friday/Saturday 8:30-11:30 am and 6:00-9:00 pm
Contact Information
Santa Rosa Junior College Southwest Santa Rosa Center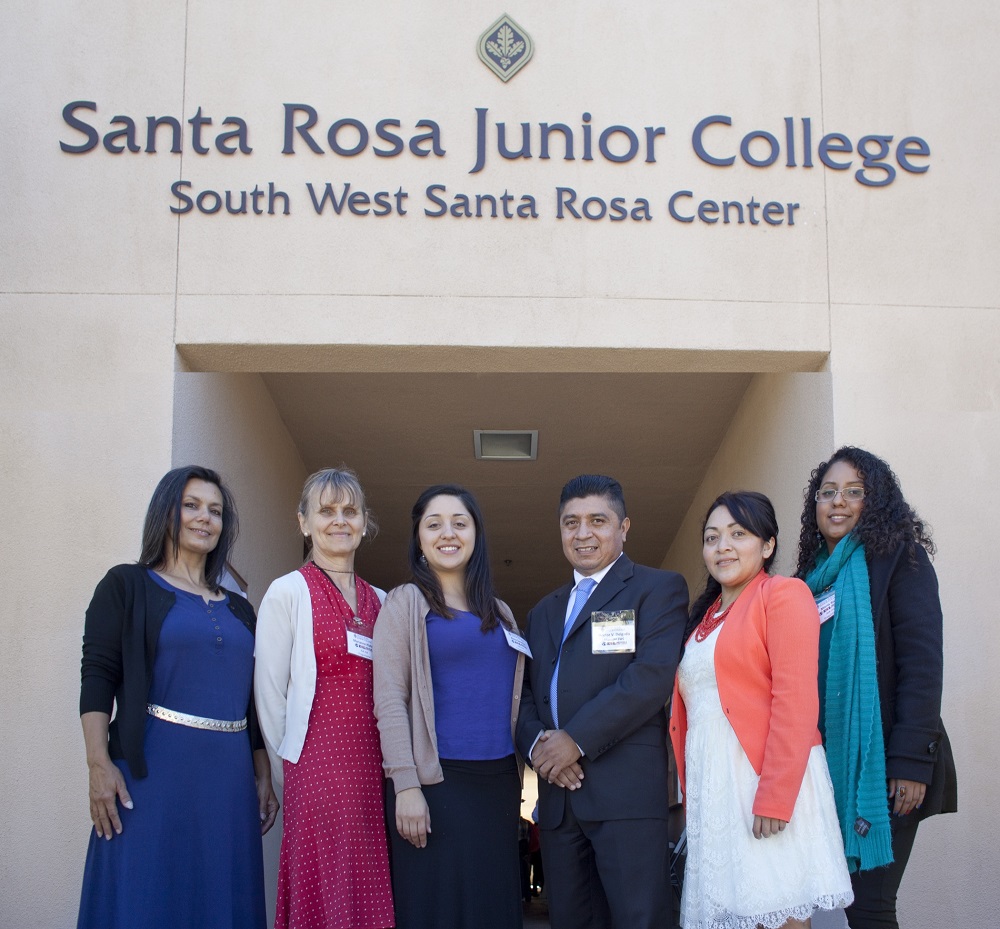 Physical address: 950 S. Wright Road, Santa Rosa, CA 95407
Mailing address:   1501 Mendocino Ave, Santa Rosa, CA 95401 
Email: swc@santarosa.edu                                              Phone: 707-527-4229                                            
Director, Southwest Santa Rosa Center: Hector Delgado
For questions related to ESL instruction:  call the ESL Department at 707-527-4382. 
For questions related to ADLTED (Adult Education) instruction: call the ADLTED Department at 707-521-7962.
How to Register
Submit an SRJC admissions application at www.santarosa.edu/apply or call our office.
Obtain a Student Identification Number (SID).
Schedule an appointment for an orientation. 
Enroll in a class online through your student portal or call our office.
Schedule an appointment with a counselor to create an education plan.
Assessment Schedule for ESL classes
At present no assessment tests are scheduled.
In-person noncredit Orientation Schedule
To make an appointment or inquire about orientations in English, please call 707-527-4229.
| | | | |
| --- | --- | --- | --- |
| Date/Fecha | Day/Dia | Bilingual Orientation  - English and Spanish | Format |
| 12/13/22 | Tue/Mar | 5:00 PM | in-person |
| 01/25/23 | Wed/Mie | 5:00 PM | in-person |
| 02/07/23 | Tue/Mar | 5:00 PM | in-person |
| 02/15/23 | Wed/Mie | 5:00 PM | in-person |
| 02/27/23 | Tue/Mar | 11:00 AM | in-person |
Additional orientations in Spanish are offered via Zoom. Dates can be found on https://southwest.santarosa.edu/en-espanol